English Diary Beer Festival in Winchester 20220501 #2-80
Hello, everyone. Thank you for coming back to my channel. This is the Nomadonomado English Diary for the 1st of May 2022.
Yesterday, my husband and I went to Winchester by train. It took forty minutes to get there on a fast train from New Milton, Hampshire where we are staying.
Winchester is on the way to London. It takes about one hour from Winchester to London so there are some commuters to London living in Winchester according to my husband.
It was a beautiful city, very clean and there was lots of greenery. It's also one of the most expensive places to live in England. We walked by a well known private school where the ground and grass were absolutely well maintained.
There seem to be lots of good pubs in Winchester too. My husband bookmarked the pubs on his google map. We could have gone on a pub crawl in Winchester but we ended up being stuck in one of those pubs.
We visited the Winchester cathedral. There was a school immediately next to the cathedral where I recorded the audio clip that you heard at the beginning of this episode.
After walking along the river, we went to the pub, the Queen Inn. They had a decent open space in front of the building where there were already lots of people drinking. However, after we entered the pub we realised they have enormous space in the backyard.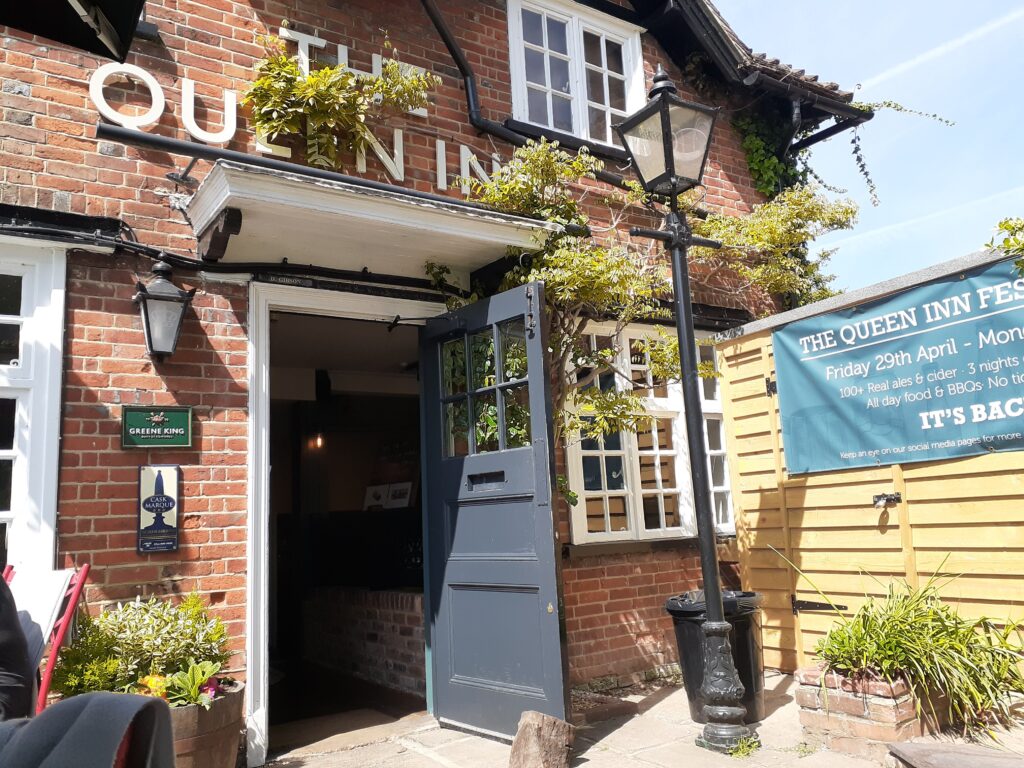 We ordered tap beer and went to the patio to find a table. There were big tents and their beer festival was going on.
They put tens of beer barrels on the counter and are serving different beers from different places in England. They said there were more than 100 different beers including cask ale and cider and wine.
Initially, we planned to have one or two pints of beer in the pub and go for a walk again but we were trapped in the beer festival. They provided thick beer lists with the name of the beer and breweries, and the explanations of the taste and flavour.
We took one leaflet which contained more than 12 pages. My husband put his glasses on and picked up a pen to mark the beer that we wanted to try and that we had drunk.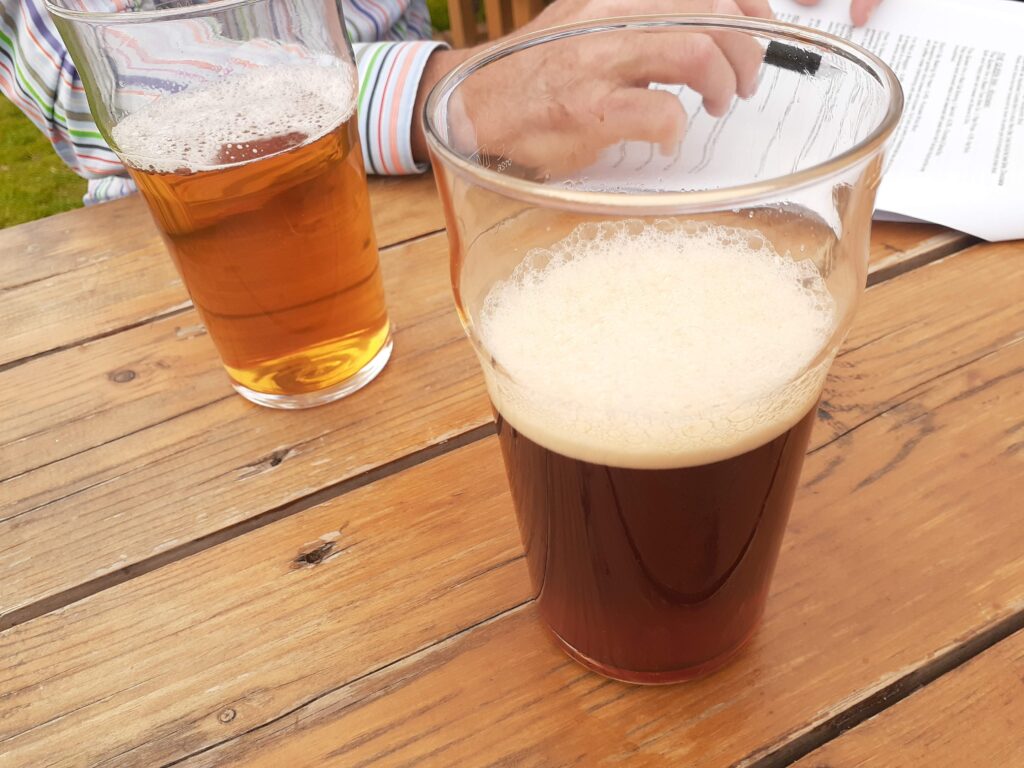 Our timing was good. When we sat down there were not many people, but as we were drinking, more and more people came in.
After the first pint, we started trying different beers having half pint each because they gave an exactly half price to a half pint of beer, which is not always the case.
We had a half-pint of this, half of that to maximise the number of the beer we could try. But I think they gave us more than a half-pint when we ordered a half-pint. They were using pint glasses to serve a half pint, so I guess that it was not easy for them to pour the exact amount of a half-pint. So asking for half a pint of each beer was a good tactic in the end.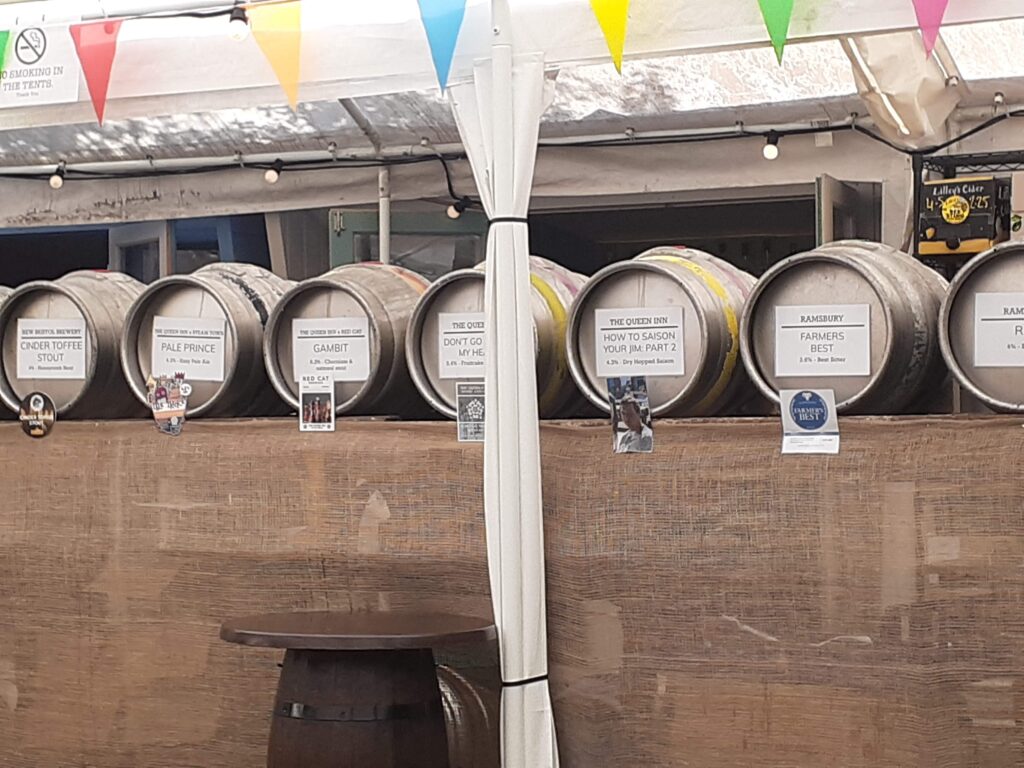 We could have stayed in that pub all afternoon but I was hungry and we brought pizza leftovers from dinner the day before yesterday with us. Also, my husband wanted to watch the football game that was supposed to kick off at three o'clock but the Internet connection was not good enough in the tents.
Therefore, we left the beer festival and walked around to find somewhere we could picnic. We stopped to eat leftover pizza by the cathedral and went to another pub after lunch.
The second pub was called the Black Boy which was another traditional English pub with an old building. We had a pint of beer each. My husband opened his small computer and started watching the game.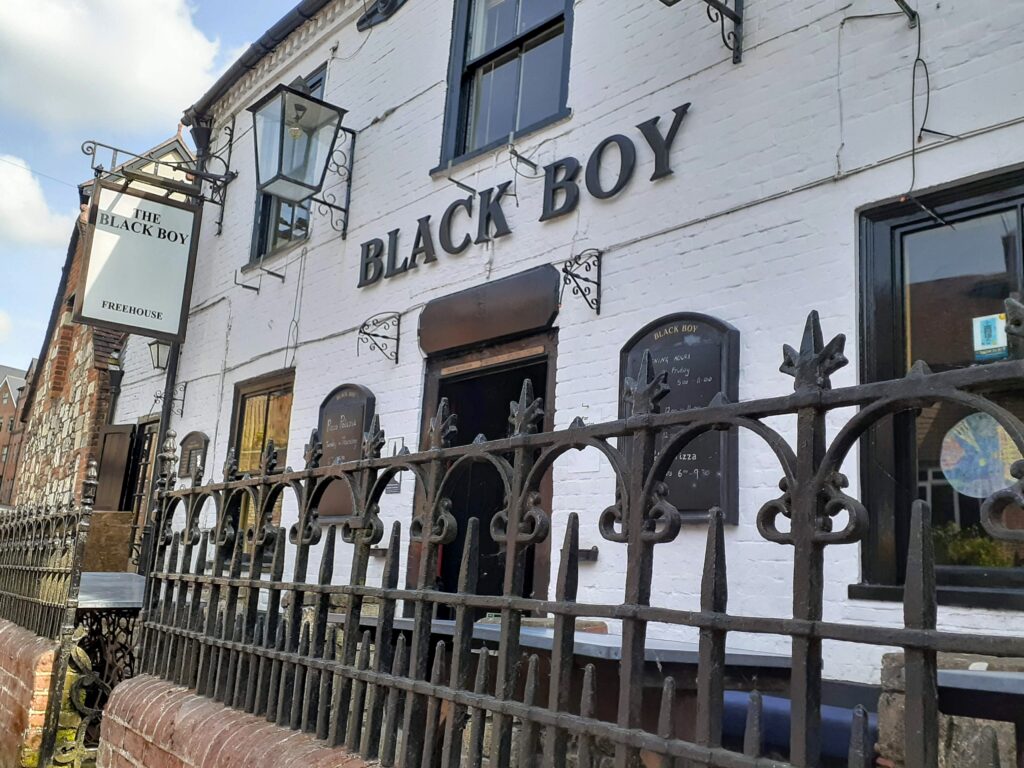 People in the pub were so nice that they laughed and cheered up even when my husband almost shouted or overreacted with the goals.
The game was brilliant. They won 3-0. It was a Bournemouth away game. My husband had given up going there to watch because it was too far for him. My brother-in-law who is a more keen football watcher went to watch the game where it took about seven hours to get to, apparently.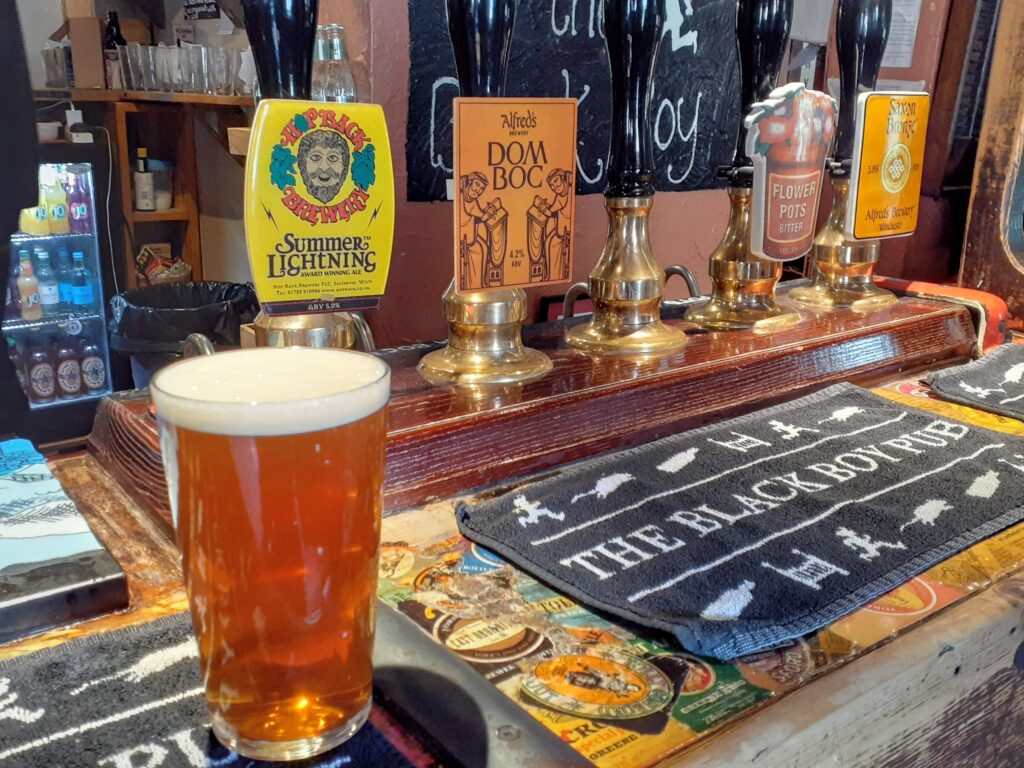 By the finishing time of the game, we decided not to stay in Winchester. We went back home instead. It only took forty minutes to go home by train, so there was no reason not to do so, especially when the hotel price was almost ripping off because of the bank holiday.
We called my husband's mother from the station of Winchester and said that we were coming home. He said that she sounded happy. It was nice to have a good time somewhere different but I would prefer to spend as much time with our family as possible when we are in England. We bought a ready meal for dinner at the supermarket and went back home.
Alright, that's all for today. Thank you for listening as always. I hope you enjoyed this episode. I am happy to receive your comments, feedback and questions.
Also, don't forget to visit my website where you can find the English script of today's episode. Thank you again. Until next time, goodbye.
---